一個自小失去雙手, 被神祝福的姊妹
一個自小失去雙手, 被神祝福的姊妹
李娜出生于中國農村,由祖母撫養。五歲時因意外雙手從肩膀截肢,被父母遺棄,得基督教家庭領養,並在送医院就医前給她施洗成為基督徒。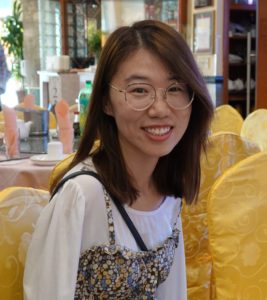 她雖然失去雙手,又不能配戴義肢,一切事情,如穿衣服、拿筷子吃飯、甚至用手機、彈琴,都得用脚完成,因而備受别人奇怪的眼光,但她却並不感到自卑,而選擇饒恕,因她知道上帝愛她已經足够了, 所以她的童年是挺快樂的。
光陰荏苒,李娜長成青少年,跟其他同齡孩子一樣,她感到迷茫、空虚,孤單,在她20歲生日前,她回歸到上帝的懷抱,重新得力。後來她輾轉來到美國,慿着不屈不撓的毅力完成大學。
李娜在2022 年獲名校 University of Southern California (南加大)取録攻讀博士學位。眾所周知,南加大是私立學校,昂貴的學費及住宿費不是普通學生能負担的,美國文化更新研究中心知道李娜的經歴,感於她特殊的經歴,堅毅的意志及努力,故而為她分担一部分學費。
在此美國文化更新研究中心祝願李娜學業有成,把所學的回饋社會,幫助他人,榮神益人。
無論何人、因為門徒的名、只把一杯涼水給這小子裡的一個喝、我實在告訴你們、這人不能不得賞賜。- 馬太福音 第十章 42 節
Twenty-seven years ago, I was born in a small village in WuAn, Hebei Provence, China. I was raised by my grandma because my birth mother had planned to give me to a random family due to the One Child Law. At the age of five, I had an electrical accident which caused me to lose both of my arms. Because of this accident, my whole life was completely changed. My birth parents abandoned me in an unfamiliar place. Fortunately, there was an elderly grandma who was a Christian who took me to her oldest son's house to have a safe place to stay. Because of their belief about God, before sending me to the hospital, they had a priest baptize me because they did not want me to die without fulfilling their understanding of the Holy Spirit. After I got baptized, I started experiencing God's blessings as a young believer. As a child, I did not feel bad because I lost both of my arms. In contrast, my childhood was fulfilled with happiness. Even when my peers and other adults looked at me differently, I chose to forgive them because I knew that God loves me and that was all that mattered.
Being able to go to a public school was hard for me in China. After I graduated from elementary school, it took me two years to be able to find a middle school that did not mind me being a disabled person. During those two years, I experienced the most difficult times. I spent one year at a catholic orphanage, another year with an American foster family in China. Even those two years were challenging, I leaned on God for everything. Because of that, God gave me the chance to finish middle school in Beijing. After I graduated from middle school, I went back to my hometown for high school. In my senior year, I felt lost on this journey because I had been thinking about my own will and desires rather than what God wanted me to become. After reflecting on what I had become by then, I thought that it was time for me to serve God. Therefore, I decided to volunteer at a nonprofit bakery where they only hired individuals with special needs so that they could help them become more independent. While I was working there, I realized that most of them felt hopeless about their future because of their physical disabilities. It was then I had a strong desire to bring the light of hope into their life. It was also during this period that God was calling me to study Psychology at Seattle Pacific University.
Just as God had planned, I graduated from SPU this year. While I was struggling to find an internship, Randy and I unexpectedly reconnected. We had not been in contact with each other for almost 9 years. Over the years, I thought that there was no way we could get in touch again because I did not have any contact information. However, God made this happen. After sharing with Randy my plans, he said "we can help you!". I thought maybe Randy was just being nice, but I was wrong. He really made it come true, he brought me here to Lubbock and found an internship for me. It took me a while to realize that God led me here for a reason. I finally recognized how much God loves me because I can see constant daily reminders of His love and care for me through the people around me.
Continuing to pursue God's calling, I applied for Occupational Therapy school last year. Recently, I received two offers from OT school. One from USC (University of Southern California), the other one from ACU (Abilene Christian University). I know that God has given us the free will to choose life. No matter which one we choose, God will use us to better serve Him in this chosen journey. In this new journey, He will continue to provide and bless us. After Sunday church, I prayed again and wrote my devotional journal. Then, I decided to take the offer from USC. I know this is not an easy journey, but I trust God that He will walk with me through my difficulties. Even though there are some financial difficulties, I believe God will not stop opening the door for me.
Thank you for hearing my story and for considering assisting me in furthering my graduate education.
Lena Li